Organic Solutions for Plant Care & Increasing Yield
Facing difficulties such as frost, sunburn, weeds, pests, etc. and yet you still want to remain as organic as possible?  Don't worry, you can find organic solutions from us that don't utilize pesticides or herbicides. We design and manufacture fabric products for various applications, such as an insulated frost cover fabric, UV sunblock shade cloth, row coverings for a mesh weed barrier, and more. We also offer customized organic solutions, so tell us what you want, and we will make it come true.
Shade cloth netting is made of durable material, it is lightweight, high-strength, aging resistant, and easy to popularize in a large area. It can keep vegetable gardens and greenhouse cooler and protect plants from direct sun. Garden shade cloth for the patio is a great choice.
Floating garden row cover can protect your plants from insects, frosts, and even heavy freezes. We carry diverse selections to fit a multitude of bed widths and lengths. You also can choose different thicknesses (or grades) of covers according to the different needs of garden plants to make sure the plants grow better.
Weed barrier fabric, also known as "garden ground cloth", "weeding cloth", and "grass control cloth", is a kind of plastic cloth to prevent weed growth with good air permeability and fast water seepage. There are woven and non-woven weed fabrics, both are durable and can be repeatedly pulled. It can be used everywhere such as weed control, seedbed protection floor surface protection, etc.
Plant stakes are used to keep plant straight as they grow. We supply plastic coated steel stakes and fiberglass stakes, they are great alternative to bamboo and wood stakes, will survive more growing season than bamboo stakes and wood stakes. The stake can also be combined into structures to make greenhouse and low tunnels.
Outfit a new cold frame or upgrade your existing worn out film on your greenhouse with polyethylene film from Growers Supply. This film is a thick, flexible material that comes in sheets of various thicknesses (measured in mils), which can be used in single or double layers, depending on your insulation needs. We offer a variety of greenhouse film styles, including 1 year film, 4 year film, white film, anti-condensate film and more. Keep the plant environment warm and maintain better heat distribution, without heat buildup or stress and reduce your energy costs in the process. Custom-cut lengths are available on many greenhouse film styles so you can order the exact amount you need.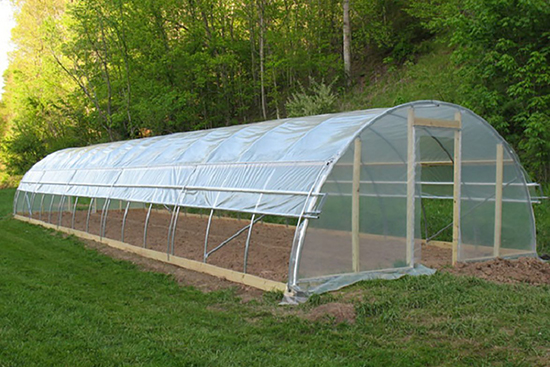 The advantage of fiberglass stake
Fiberglass stake is used as a seeding support stake(fiberglass plant stake , fiberglass tree stake). Now we choose 5mm in diameter and 2.2m in lenth with high-cost performance, which is suitable for seeding rearing and arch shed . In terms of agricultural products, the advantages are shown as follows:
1. Lightweight, single weight 80g.
2. High temperature and cold resistance.
3. Good resilience, recycling storage as straight rod, easy to use.
4. Durable and economical, it can be used for up to 10 years.